I recently built a new mid-tower PC, but made some decisions worth writing about.
I had a few goals in mind when building this (over the course of a few months), but most importantly I was going to use for gaming.
Also, I wanted to run VR. And you probably already know that I'll only have Linux installed on the PC, so that's where my build strategy topics come in:
VR in a VM
The Ryzen 2400G processor has Vega 11 graphics built-in, which on it's own can handle some games well enough, but what's important is that it can be enabled and used at the same time as a dedicated GPU, and the CPU supports PCI IOMMU.
This means that I can forward a dedicated GPU to a Windows VM in case I wanted to play VR titles that are Windows-only, and compare their performance with a proton or native version on Linux just by booting the VM.
Unfortunately the 2400G was the highest end AMD CPU with integrated Vega graphics at the time of writing, otherwise I might have gone with a Ryzen 7 series.
Factorio
I don't know if you've heard of Factorio or not, but you will need to understand that the basis of this game is that the entire world undergoes a huge lockstep simulation every tick. (60 UPS)
Factorio worlds, although 2D, can grow very massive. Many of my world saves use up 6GB of RAM easily.
For a lockstep of this scale, where the whole world needs to be processed every 1/60th of a second, it has to read a huge amount of memory each tick to keep pace.
Since Factorio is also primarily single-threaded, I went with a high-end x470 motherboard to support overclocking the 2400G to get a higher per-core clockspeed.
The Final Build
As I accumulated parts over the course of a few months (the GPU from a previous build,) I reached a sub-1000 dollar final cost:
PCPartPicker part list / Price breakdown by merchant
A few items I got from local contacts around Knoxville, like the SSDs (still new) and PSU.
The final build is a blackout build, but I still managed to find a good shot: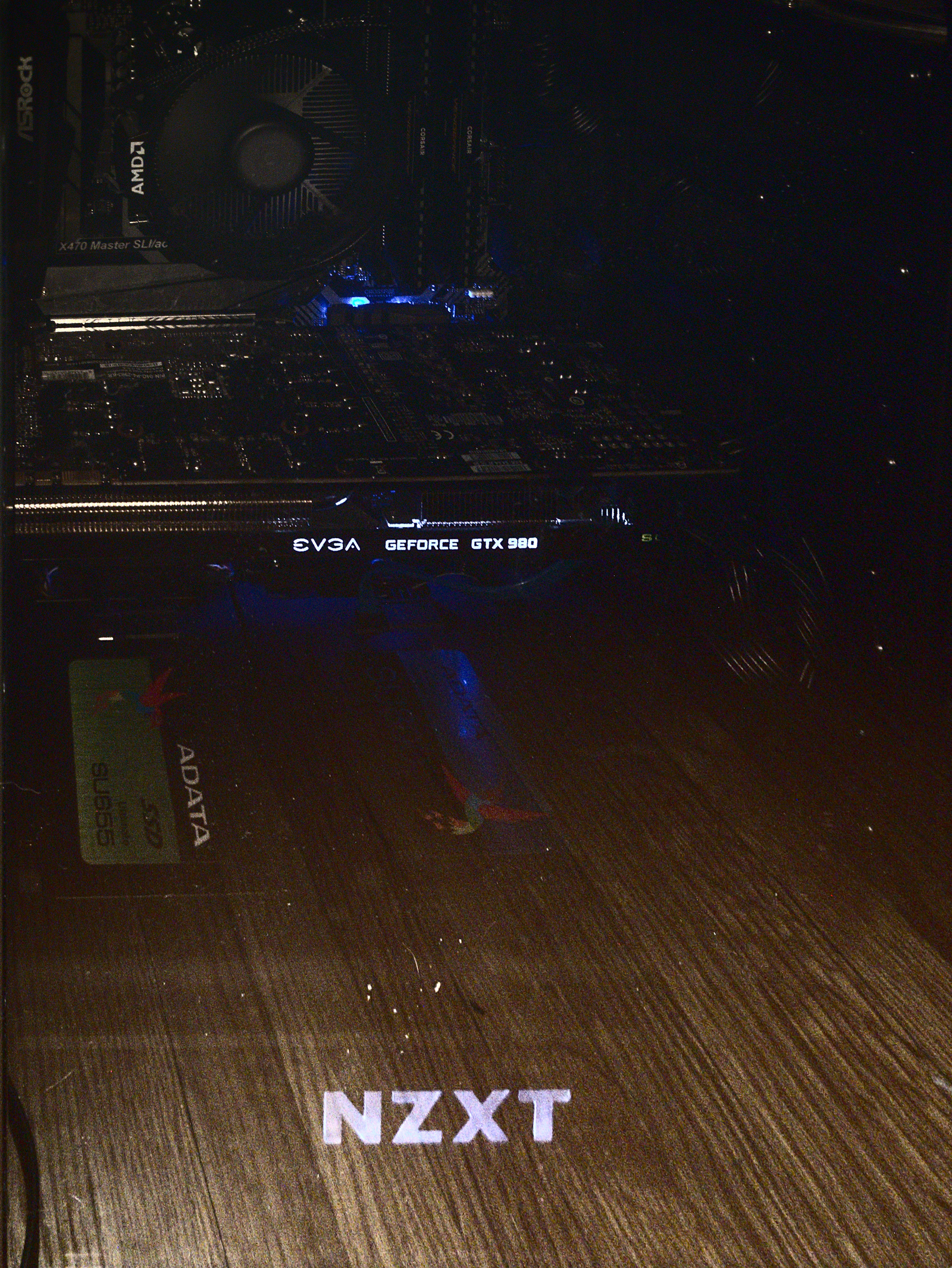 I used the wood floor as a reflective source for the sidepanel, the NZXT logo is on the power supply shroud. Perhaps I will blackout the green SSD at some point as well. (It's straight, it's just the perspective that I used for the reflection that makes it look tilted.)
To the Future
With the new build done, it enables me to pursue Linux VR and I will probably write about that topic again in the future once I have tested it personally. (At least, on a computer that's not my laptop…)
For now though, I'm still getting used to keeping two daily driver machines in sync. That effort is made a bit easier by things like Synergy, Syncthing, and of course my configs repo using dotbot.